Los Angeles educators get ready to go all in
August 3, 2018
Los Angeles educator and United Teachers Los Angeles member Gillian Russom reports on a union conference organized to get ready for a battle next fall.
MORE THAN 750 school-site leaders attended the United Teachers Los Angeles (UTLA) leadership conference on July 27-29. Organized under the theme "All In for Respect," the purpose of the conference was to prepare members to be ready to strike this fall.
UTLA has been in contract negotiations with the Los Angeles Unified School District (LAUSD) for 16 months. Just before the conference, LAUSD pledged to bring "significant proposals" to bargaining. Instead, the district added a one-time 2 percent bonus and no ongoing raise. It again refused to make any improvements on class size; staffing of nurses, social workers and counselors; oversight of charter schools; over-testing; or UTLA's "common good" proposals to benefit school communities.
UTLA then submitted its "last, best and final offer," which LAUSD rejected.
"District officials claim we are being outrageous and uncooperative because we won't join them in their cynical view of our future," said Arlene Inouye, chair of the UTLA bargaining team. "Our vision for hope and reinvestment does not match their goal to defund, dismantle and ultimately privatize our public school district."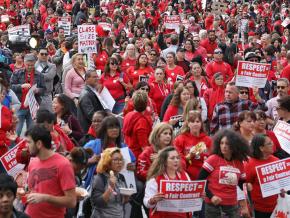 In his "State of the Union" speech at the conference's opening dinner, UTLA President Alex Caputo-Pearl laid out the critical moment we find ourselves in following the school board's appointment of investment banker Austin Beutner as superintendent this summer:
As a corporate consultant, Beutner's role was to wind down businesses, to consolidate, cut, sell off, whipsaw and profit. In the same way that Betsy DeVos and Scott Pruitt attacked the very institutions they were appointed to lead, Austin Beutner was brought in to attack our public schools...They want to end public education as we know it...

They're ambitious so we must be ambitious. It's not enough to win a salary increase when we may not have a school district in a few years.
Caputo-Pearl went on to explain the importance of our "broad and comprehensive" bargaining package, including a reduction of standardized testing, stronger regulation of charter schools and $5 million to fund the creation of more democratically run community schools that would attract families back from charters.
Christabel Ukomadu, a senior at Dorsey High School who introduced Caputo-Pearl, underlined the social justice message, describing the student movement to end "random" metal detector searches that criminalize students of color in LAUSD. "If you choose to strike, you have our support!" she said.
Caputo-Pearl also listed the actions that UTLA has taken over the past year and a half: red-shirt Tuesdays, regional rallies, a successful organizing drive at three Alliance charter school sites, getting 75 percent of our members to sign union recommitment cards, school site struggles against co-location by charters, faculty meeting boycotts, and a citywide rally of 12,000 people in May.
All of these, he said, "prepare us to strike if we need to."
At the conclusion of his speech, Caputo-Peral asked people to stand if they were ready to strike if needed. The entire crowd got to its feet, chanting, "Strike, strike, strike!"
---
UTLA MEMBERS came to understand at the conference that striking will be necessary to stop an austerity agenda that would jeopardize LAUSD's very existence in the face of charter school expansion.
Beutner's first act as Superintendent was to commission a report titled "Hard Choices," to be used to justify deep cuts to schools and teacher compensation.
Using deeply flawed methodologies, the study argued that teacher compensation in LAUSD is 17 percent too high and our health benefits are 44 percent too costly for the district. The study also suggested raising class sizes, including in special education classes; reducing investments in social-emotional support; cutting spending on instructional materials and supplies; and extending the workweek by 90 minutes without additional pay.
Despite the daunting attacks facing our schools, the conference was filled with confidence from the successful teachers' strike wave this spring. Saturday's lunch featured an inspiring panel with the presidents of teachers' unions in Puerto Rico and Arizona.
Mercedes Martínez, president of the Federación de Maestros de Puerto Rico, described her union's successful illegal strike in 2008, which won a 14 percent raise and a ban on charter schools on the island.
She also described the incredible risks union members in Puerto Rico are taking to stop the current plan to close over 300 schools since Hurricane María. "They have the corporate media," she told the crowd, "but you have the truth, the people and the parents who love you. When the time comes, don't hesitate to do what you have to do!"
Joe Thomas, president of the Arizona Education Association, described how the strike in his state was driven from the bottom up by a frustrated rank and file. "Arizona Educators United was a Facebook group created by young teachers who really believed they could change the system," he said. "As union leaders, sometimes we get cautious, but thankfully, they wouldn't let us be cautious."
Thomas encouraged UTLA members to prepare to take disruptive action: "At the end of the day, it's not about your list of demands. It's about what you will risk for your colleagues and your students. That's what solidarity speaks to."
Trainings on Saturday were geared toward helping chapter chairs (school-site union reps) and other activists build strike readiness at their sites. This included an inspiring video on the spring teachers' strike wave, helping teachers make the case for a "Yes" vote in the upcoming strike authorization vote, planning for picket lines, and reaching out to parents.
The union will be holding a strike authorization vote beginning in the second week of school (August 23-30), followed by a month of consolidating parent and member support in order to be walkout-ready by early October.
Bringing the spring teachers' strike wave into the post-Janus era, and into a blue state where the attacks on public education have been led by Democrats, would be a huge contribution if UTLA can pull it off. But the billionaires who support Beutner and who poured $13 million into the last LAUSD School Board election will not make it easy on the union.
UTLA will need solidarity from the people of Los Angeles and across the country in order to succeed.