A sick-out to support the striking teachers
February 28, 2019
Ann Coleman reports from the Bay Area on California Educators Rising's call for solidarity Thursday to bring fellow teachers to the picket lines and protests in Oakland.
AS OAKLAND teachers head into a second week on strike, teachers and students from San Francisco, Berkeley, San Lorenzo and Albany are planning to call in sick on Thursday, February 28, to join a Bay Area-wide solidarity action on the picket lines in Oakland.
The sick-out builds on an action this Monday where educators from Mission High School in San Francisco took a sick day and joined Skyline High School's picket line.
Teachers and students participating in the sick-out will gather for a rally and speak-out at 11 a.m. at Oscar Grant Plaza in Oakland across from City Hall, where they will show their solidarity with OEA members and OUSD students.
Educators are taking the non-sanctioned day because Oakland teachers are fighting for demands that would have ripple effects across the state if they win their strike.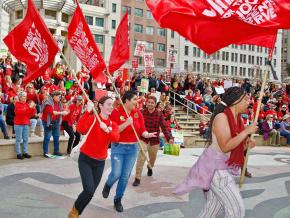 As Hannah Edber, a teacher at Albany High School, said:
I stand with our comrades in Oakland and am proud to be in solidarity with the demands for better conditions for teachers and students. I am proud to be part of a California movement to draw attention to the way education and the futures of our students are affected by structures of inequity, and to share the hope and strength of this movement and others to demand a better world for them and for us.
The issues that teachers are fighting for in the OEA strike, which began on February 21, are similar to the other walkouts in the ongoing strike wave. Thus, teachers from San Francisco to Berkeley are also trying to mobilize to learn from the success of Oakland educators as they start organizing for their respective contract negotiations.
OEA, for example, is fighting for contractual class size limits — something that hasn't yet been won in contracts in nearby districts like San Francisco. The need for more special education funding, plus counselors and other student support staff is also felt across California public schools.
In addition, California educator union members are building support statewide, for Schools and Communities First, a proposition on the 2020 ballot that will make corporations pay their fair share of taxes to support public education.
---
UNITED EDUCATORS of San Francisco (UESF) members also started a petition to their union leadership to call for immediate forgiveness of the debt that OUSD owes to the state, no school closures and a stronger statement of support for Oakland educators from newly elected Gov. Gavin Newsom and State Superintendent of Public Instruction Tony Thurmond.
Ariela Rothstein, a teacher on special assignment in San Francisco, said:
As an Oakland resident and San Francisco educator, I am joining this action because I am frustrated that the police force can get a 12.5 percent raise easily in fall 2018, and the heart of the community, public school teachers, have to go on a multiday strike and still aren't receiving a fair offer from the district.

Oakland's fight for class size limits and student supports will have an impact on the district where I work — San Francisco — and builds the movement for fully and progressively funded public education in California.
California Educators Rising (CER), an important new grouping of rank-and-file educators inspired by the recent wave of teacher strikes and walkouts, is helping to coordinate solidarity and generalize lessons across school districts. CER launched Red for Ed days of action in the fall of 2018 and helped coordinate a statewide action with OEA on February 22 — day two of the Oakland strike.
Teachers from UESF participating in the sick-out also contributed to the February 22 statewide day of action with speeches shared on social media.
In those speeches, one UESF teacher and former OEA teacher spoke about the impact of the Roots International Academy closure by OUSD weeks before the OEA strike. Another UESF educator and parent of an Oakland student shared with his daughter the importance of solidarity and heard in her words how she doesn't think the teachers are being treated fairly. Yet another UESF member who is also the spouse of an Oakland teacher and discussed how the two make ends meet living in the Bay Area on teachers' salaries.
CER initiated a statewide Adopt-a-School initiative in the lead-up to the UTLA strike. Each Oakland school was adopted by the second day of their strike, and CER is helping to promote solidarity efforts throughout the walkout.
Solidarity actions by educators in other districts and parents in Oakland are necessary to keep the pressure on OUSD and the state to fully fund public education and support teachers in their efforts to provide the education our students deserve.