Oakland teachers prepare their strike strategy
February 12, 2019
Ann Coleman reports from Oakland on what teachers, students and community members are doing to prepare for a possible strike at the end of February.
OAKLAND EDUCATION Association (OEA) members are preparing for a walkout at the end of the month after voting overwhelmingly to authorize a strike if the Oakland Unified School District (OUSD) doesn't meet the OEA's demands for a living wage, smaller class sizes, more services for students and a stop to school closures.
Ninety-five percent of members voted on February 4 to authorize a strike, with 84 percent voter turnout.
"This is a clear message that our members are ready to fight for the schools our students deserve, said OEA President Keith Brown. "This powerful vote is a mandate for smaller class size, more student support, a living wage and it is a mandate to keep our neighborhood schools open."
Hundreds of teachers and supporters rallied at City Hall the day after the announcement of the strike vote. During the rally, Taylor Memorial United Methodist Church Pastor Anthony Jenkins Sr. pledged to open his church to students and called on other church leaders throughout the city to join in his efforts to provide strike solidarity schools during the upcoming strike.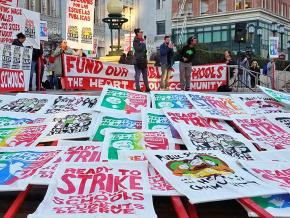 The Oakland City Council voted unanimously to support the teachers and oppose school closures.
OUSD didn't waste any time organizing scabs to replace the teachers when they go out on strike. On February 6, OUSD posted a job listing on Craigslist for "Emergency Temporary Teachers" at $300 a day — which is more than the average pay of OEA teachers and almost two times greater than the salary of entry-level teachers.
About 50 teachers and supporters flooded the OUSD on-site interviews scheduled for February 9 with a picket line at every entrance of the building — to keep potential strikebreakers from attending interviews at the OUSD Police Services Building.
More than 2,000 students in Oakland staged a sickout on February 8. About 200 Oakland Tech students organized a march from their school down Broadway to the OUSD offices. The march was entirely led and planned by students.
Student organizers are forming cross-campus group chats to coordinate simultaneous events around strike support. The Oakland students are determined to be a decisive factor in this strike.
---
A STRIKE date hasn't been set as OEA waits for the nonbinding fact-finders' report, which is expected February 15, the same day as a planned #RedForEd Statewide Day of Action in support of OEA and its fight for the schools Oakland students deserve.
OEA has to give OUSD 48-hour notice with member review, and with that notice, a likely strike date wouldn't be until February 21, but the union and community are organizing solidarity support in preparation.
Unlike Los Angeles teachers, who recently went on strike, the union has no "rainy day fund." The fight for funding is at the center of the impasse between OUSD and OEA. OUSD has been paying back a $100 million loan since 2003 when it was put under receivership by the state.
Parents are blaming the defunding of public schools on the expansion of charter schools, and OUSD officials respond by throwing up their hands and saying they can't meet the teachers' demands and the state obligation to retire its debt, to the tune of about $6 million a year through 2024.
Money available to public schools isn't fixed, and Oakland teachers and students have been receiving the short end of the deal since the economic meltdown in 2008 and the massive recovery for the rich over the last 11 years.
It's clear that more resources make better schools, and this needs to be a part of our demands. In many ways, the Oakland debt is manufactured based on a decade-long reduction in federal education funding, increased monitoring, pay for performance and now state funding distributed in the same way, with strings attached.
There's no reason this debt can't be forgiven, a moratorium on charter schools enacted, Proposition 13 repealed for corporate property taxes, and pressure put on the federal government for more funding. It will take a movement from coast to coast to win the schools our students deserve.
Eli Ward and Sarah Wheels contributed to this article.