Keep the Trump out of Milwaukee
February 2, 2017
Michael Grochowski reports on the planned protests that forced the White House to cancel a visit to Wisconsin, adding another victory to the anti-Trump resistance.
DONALD TRUMP was scheduled to give a speech on February 2 at a Harley-Davidson factory outside Milwaukee. Instead, he had to cancel after the company, famed for its tough outlaw image, declared that it "wasn't comfortable hosting him amid planned protests."
Those protests were planned by the Milwaukee Coalition Against Trump (MCAT), which issued a triumphant statement after the cancellation: "Today, Milwaukee let the world know that Trump is not welcome here."
"Thousands of people from all walks of life were prepared to protest Trump's visit and condemn his hateful speech and policies," the statement continued. "The Milwaukee Coalition Against Trump organized a call-in protest to Harley-Davidson that resulted in a denial from Harley-Davidson, followed by an announcement from the White House that the trip was cancelled."
According to CNN's Jeremy Diamond, Trump's intended to use the factory as a backdrop for signing executive orders related to American manufacturing. "The visit had not been publicly announced," Diamond continued, "but White House staffers were already on the ground in Milwaukee setting up for Trump's planned visit to the factory on Thursday.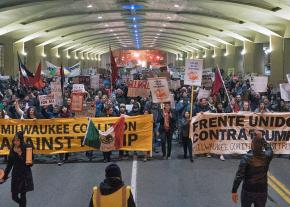 But opposition to Trump's appearance was built on remarkably short notice. As word spread on January 29 about the planned visit in four days, MCAT called for an emergency protest.
Within 24 hours, the protest's Facebook page had over a thousand people listed as "going" and over 4,000 more listed as "interested"--about 10 times greater than the Facebook responses to the coalition's December protest against Trump's "Thank You" rally after the election.
The coalition denounced Harley, saying that company leaders should be "ashamed that they would use their facility or their brand to spread an agenda of union-busting, racism and discrimination." The group shared the company's contact information on Facebook and called for phone calls, e-mails and Facebook messages to demand they cancel the event.
While Trump spokesperson Stephanie Grisham claimed that the event was cancelled "due to scheduling," and Harley-Davidson denied there was ever a presidential visit planned, a source inside the White House told CNN that "it was the threat of protests" that caused the change in plans.
In other words, less than two weeks into his administration, the President of the United States is sneaking around a major city in order to avoid demonstrators.
---
PEOPLE IN Milwaukee began confronting Trump well before he seemed likely to become president. Last spring, a number of activists and organizations formed the Milwaukee Coalition to Protest the GOP Debate in order to protest the March 29 Republican Town Hall.
A number of MCAT activists were actively involved in the Town Hall protest, which included a rally and a large sign that said: "Hate is not welcome in Milwaukee." Before marching through the streets of downtown Milwaukee, hundreds of protesters wrote their names on the sign to tell Trump to stay away from their city.
That morning, a smaller group of activists from the coalition tried to interrupt Trump's rally in Janesville, Wisconsin. They were quickly picked out and removed for not appearing to be Trump supporters.
A few days later on April 3, student groups, including Youth Empowered in the Struggle and the Black Student Union, organized a march and sit-in at the University of Wisconsin-Milwaukee to protest the university hosting a Trump event. The protest drew heavy police presence, with stark images of police hovering in a line over sitting students, with officers behind them on horses. One student was arrested.
Later that day, a Milwaukee activist made his way into a Trump rally in nearby West Allis and interrupted Trump, yelling "The people of West Allis reject you!"
As the protester was thrown out, Trump responded, "Isn't it fun to be at a Trump rally? Isn't this great? Honestly, they're lost. Kids like that are lost."
But "kids like that" learned a lot that week, including how to move fast in response to events announced at the last minute to try to foil protests. Those lessons paid off this week. And now those "kids" make up many of the organizers that work in or alongside MCAT, a coalition of 15 organizations that includes socialist organizations, Palestine solidarity groups, unions and student groups.
---
TRUMP ONLY won 29 percent of the vote in Milwaukee County. But voter turnout in the county was down 60,000 votes from 2012--probably due to both the low enthusiasm among Democratic voters for Hillary Clinton and the voter suppression effects of Wisconsin's strict voter ID law in the city's poorest neighborhoods.
As a result Hillary Clinton received about 40,000 fewer votes in Milwaukee than Barack Obama did four years ago, a critical amount in a state that Trump won by just over 22,000 votes.
If Milwaukee played a major role in the 2016 elections, it looks like the city might be a key spot in the 2017 resistance.
MCAT and its allies have given Trump an embarrassing loss and built on the protest momentum that started with the Women's March which dwarfed Trump's inauguration and that continued with the airport uprisings that helped deliver a partial stay on his bigoted ban on Muslims.
This victories in Milwaukee presents a few important lessons: There will be wins and losses, and learning from losses can help us win later on; protest and sometimes even the "threat of protest" make a difference; and coalitions formed around left-wing politics and social justice can strengthen the fight against Trump and the right.
As MCAT's statement concluded: "Trump's unpopular policies have ignited an unprecedented resistance movement that will block his every move. We hope our success in Milwaukee sets the tone for the rest of Trump's Presidency, wherever he goes, there will be resistance!"