We're not leaving our home
October 5, 2011
A Southern California family is resisting threatened foreclosure on their home, with the help of community activists. Gillian Russom reports how the struggle developed.
THE ORDER evicting the Gudiel family from their home took effect on September 28--but they aren't leaving.
The Gudiels are taking a stand against OneWest Bank and Fannie Mae, the mortgage holders who foreclosed on their home in La Puente, Calif., 20 miles east of Los Angeles.
Rose Gudiel has lived there for six years, along with her brothers and elderly parents. They'd rather be arrested than leave their home when the sheriffs come to enforce the unjust eviction.
Rose has been trying to get OneWest to modify her home loan--which requires a monthly payment of $2,456--for almost two years. After her younger brother was killed in a shooting in 2009, the family income dropped, and Rose missed a payment by two weeks.
The bank "refused to take my payments and told me to enter the modification process," Gudiel explained to the San Gabriel Valley Tribune. The bank told her she had to stop payments and go into default in order to qualify for the modification. "I was in the process of modification when I got my foreclosure notice," she said. Fannie Mae is the investment company backing the loan, and they have also refused to budge.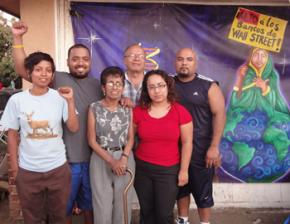 Rose found help from the Home Defenders League, organized by the Alliance of Californians for Community Empowerment (ACCE). She began holding organizing meetings with allies and neighbors and, after consulting with her family, decided to resist the eviction.
On September 6, an El Monte Superior Court commissioner ruled that the Gudiels are unlawfully occupying their house and ordered them to vacate the premises within two weeks.
On the eve of the eviction order taking effect, the Gudiels confronted Los Angeles County Sheriff Lee Baca in the middle of a press conference he was holding to respond to the recent scandal of prisoner abuse in the LA County Jail. They pled with Baca not to enforce the eviction order, and presented a list of medications for Rose's mother in case she was arrested.
"He said he was working on finding us a place to live," Rose said after the confrontation. "I told him I already had a home, and he just said that was all he could do for me. I don't care what he says. I have my home, and I'm not leaving. He can take me to jail. I'll just come right back."
That night, dozens of supporters established a community encampment to support the Gudiels if and when the sheriffs arrive. Members of the Home Defenders League, union members, teachers, parents, Food Not Bombs activists, students and a constant stream of TV cameras have been visiting the encampment over the past several days. Although sheriffs have driven by several times, they have not yet entered the property.
In an interview, Rose's 63-year-old mother, Rosa Maria, explained why she is taking a stand:
This house has many memories that are very valuable to us. And that's why we don't want to lose it...We've celebrated birthdays here with the family, we're a family that has lived together for a long time. We're a united family.

I think this is a very big problem, because it's not just me, it's thousands and thousands of families that are losing their homes--families with small children that are thrown out into the street. It can't be this way. Families get their houses at great sacrifice, and at the last minute, the bank comes and takes it away from us. I don't think it's right.

The banks have received money so that they can help us, but they don't want to help us. They're sitting on the money and they don't want to let go of it. That's why we're struggling and struggling so they don't take away this house.
---
THE GUDIELS' bold stand kicks off a week of actions organized by ACCE with the theme of "Make the Banks Pay to Re-fund California." Actions will highlight how foreclosures, bailouts and low tax rates on Wall Street banks have sapped $6.8 billion from the California budget that could have been used to fund education and social services.
On Monday, teachers from United Teachers Los Angeles joined ACCE activists in a teach-in at a downtown bank, where they'll give the bankers a "quiz" about who's to blame for the economic crisis. Tuesday and Wednesday protesters will descend on the homes of bank CEOs in Bel Air and Pasadena.
On Wednesday, activists will collect trash from foreclosed homes in blighted communities that the banks are supposed to be cleaning up, and will deposit the trash on the banks' doorsteps. And on Thursday, more than 1,000 homeowners will join with union members and student activists in a march to another downtown bank.
The Gudiels are making the connection between their actions and the broader rebellion against the Wall Street crooks that's taking place across the country. As Rose's sister Jess said:
We are occupying our home to represent all the millions of people nationwide who are going through the same thing. Oftentimes, we feel like this power that's against us is just an anonymous giant; we can't pinpoint who or what it is. But when something like this happens, we start to see that we have given them the power, so how do we start to take that power back?

We're standing in solidarity with the folks in New York occupying Wall Street because we are seeing that the banks and corporations have abused their power.

People have fought for our rights in the past, so we're certainly not the first ones, but it's our first time doing a civil disobedience or anything like this. I want to thank the banks for having made resisters and activists out of my family. There's nobody I'd rather be fighting with than the people who brought me into this world.
Her brother Herbert explained:
I'm just like anybody else who would have said, "The bank says we have to do this, so we have to do this." It took the ladies in my family to show a little more strength. My sisters and my mom were like, "No. That's not going to happen." It was pretty inspirational. How can you say no when your sisters and your mom are willing to fight?

And now that we're in the situation, it's not just about us anymore. We've got to spread the word, because someone else is going to be in our situation the next day, and the following day, and a few days after. And if the word doesn't spread, no one knows how to react and they give up right away.

But once you fold, the bank gets that much more power, and we can't allow that to happen...We fought to get this house, and the bank or Fannie Mae is not going to take it away. It's going to stay with us and we're going to fight to the end.