and
Pelican Bay prisoners refuse to be invisible
July 27, 2011
Nicole Colson and Gillian Russom report on the end of a hunger strike by California prisoners--and the solidarity their courageous protest sparked around the U.S.
AFTER PROMISES of reform from state officials, prisoners on hunger strike at California's Pelican Bay State Prison called an end to their protest after more than 20 days without food.
On July 22, prisoner solidarity activists reported that inmates at Pelican Bay's Security Housing Unit (SHU) had accepted an offer of promised changes from the California Department of Corrections and Rehabilitation (CDCR).
Their hunger strike began on July 1, with some 400 prisoners in Pelican Bay's SHU putting their lives on the line to protest repressive conditions and near-total isolation that many have been forced to endure for months--and in some cases, years--inside the units.
The prisoners' five main demands included an end to group punishment; a halt to the "debriefing" policy, and modifying the prison's gang status criteria; better food; expanded programs and privileges for long-term SHU residents; and compliance by the prison with the 2006 recommendations of the U.S. Commission on Safety and Abuse in America's Prisons.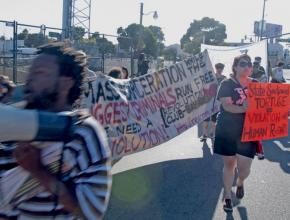 The debriefing policy and gang status criteria was cited as especially repressive. Prisoners are targeted as "gang threats" for no more than possessing left-wing books or newspapers.
Within a week of the beginning of the strike, as many as 6,600 prisoners at Pelican Bay and 11 other California prisons were participating. Although that number decreased over the weeks, more than 1,000 prisoners across the state were reportedly still participating in the hunger strike as of July 18.
The hunger strike sparked solidarity protests in several states by prisoners' family members, friends and prison reform activists inspired by the stand of the men inside. In one of the most recent, 70 people rallied in front of the Men's Central Jail in downtown Los Angeles on July 22.
One participant, Liz, was protesting in support of her close friend on hunger strike who has been in the SHU at Tehachapi State Prison since April. He was placed in the SHU because he was "validated" as a gang member, based on having an Aztec "cultural drawing" in his cell. As Liz said in an interview:
He's a lifer, so we don't know how long he's going to be in the SHU. It could be two, three, or twenty-plus years. This is an issue of human rights. They're putting people in solitary indefinitely without any real reason and no rehabilitation. They get no natural sunlight. It's like they're burying them alive. What the hunger strikers are asking for are basic human demands. We have to support them because you never know who it's going to affect next.
Another participant, Yvonne, said her son has been in Corcoran State Prison since he was sixteen-and-a-half. He's now 32 years old. He was "validated" as a gang member for placement in the SHU because he had an essay on Mayan culture in his possession, which was supposedly signed by a gang member. But Yvonne says the real reason he was placed in the SHU was that he and other prisoners protested against the removal of their phone privileges.
"What's so unjust is that they're punished unnecessarily and indefinitely," said Yvonne. Imagine being locked in your bathroom for 20 years, and only being able to come out for an hour a day."
---
ON JULY 16, the Pelican Bay Hunger Strike Coalition reported that the strikers had rejected a halfhearted offer from the CDCR for some vague reforms. The determination of the hunger strikers reportedly led some inmates at that point to join the hunger strike for the first time, or to rejoin the hunger strike after previously having gone off of it.
But within a week, prisoner advocates were able to confirm that leaders of the hunger strike inside Pelican Bay's SHU had decided to accept a more concrete proposal for some modest but concrete gains from the CDCR.
A report on the website detailed the promised gains:
The leaders confirmed CDCR's announcement that immediate changes in SHU policy are the opportunity for some educational programs, provision of all-weather caps (beanies) and wall calendars. More substantially, the leaders explained the CDCR has agreed to investigate changes to other policies, including the gang validation and debriefing processes, and it is now up to supporters outside prison to make sure the CDCR upholds their promise.

Many supporters, as well as the Pelican Bay hunger strike leaders, see this as a victory. The leaders explained to the mediation team they are overwhelmed by the support and solidarity of family members, community members, organizations, and people across the world joining their fight for human rights, and cannot adequately express their appreciation. They also explained this is in no way over. Using a sports reference, the Short Corridor Collective insisted: 'This is just the first quarter,' and what a start it has been.

The Pelican Bay hunger strike leaders also ask all supporters, including the mediation team to continue working together, to expand and to stay involved in making sure these demands are met fully, and that prisoners everywhere are recognized and treated as human beings.
While this may seem like a small victory in the wake of overwhelming repression, the fact that Pelican Bay prisoners were able to fight back and get their demands to the outside world--despite the CDCR's refusal to let any participating prisoners speak to the media--is inspiring.
Writing in Britain's Guardian newspaper, James Ridgeway and Jean Casella noted:
If [the hunger strike] seems like a desperate measure by desperate men, it is. The widespread use and abuse of solitary confinement in U.S. prisons and jails is one of the nation's most pressing domestic human rights issues, and also perhaps its most ignored. In the end, the Pelican Bay hunger strikers won only a few token concessions from the California Department of Corrections and Rehabilitation...the right to wear caps in cold weather, to hang wall calendars in their cells, and to have access to a modicum of educational programming.

But they achieved something much more important, as well: For a few weeks, the men of the Pelican Bay SHU ceased to be invisible.